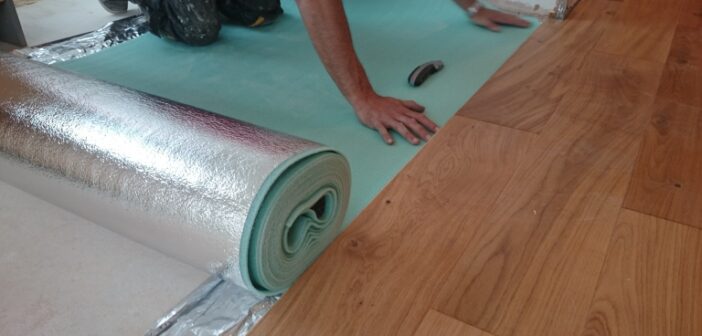 Zachte en piepschuim ondervloeren

Instructie voor zachte ondervloeren en piepschuim ondervloeren voor parket laminaat of houten vloeren. Zorg dat de kamer compleet leeg is. Verwijder ook de plinten.
Bij zachte ondervloeren (plastic, aluminium + schuim) op rol:
of de ondervloeren overlappend leggen (min. 20 cm overlap) of
de naden afplakken met aluminium tape
Bij piepschuim of roofmate vloeren de platen tegen mekaar aanleggen. Als er gevaar bestaat voor vochtdoorslag van onderen (dus alleen bij vochtige vloeren en/of begane grond vloeren) moeten de naden worden afgeplakt.
Vervolgens de ondervloer monteren. Bij harde houtachtige ondervloeren (spaanplaat, hardboard, oceanboard, underlayment) altijd 5 mm ruimte over laten tussen de platen en vervolgens vastschroeven of spijkeren.
Eerst het midden van de plaat vast zetten en dan om de +/- 30 cm naar buiten toe. Als laatste de randen vastzetten. Een zachtboard vloer wordt niet vast gezet. Op betonnen vloeren wordt meestal zachtboard ondervloer gebruikt. Gebruik je toch spaanplaat of oceanboard verlijm deze platen dan op het beton met behulp van montage kit.
Rondom de ondervloer is minimaal 10 mm ruimte. Houdt ook minimaal 10 mm ruimte aan rondom leidingen, plinten. Als je zowel een plastic onderlaag gebruikt om vochtdoorslag tegen te gaan en platen om de oneffenheden uit te vlakken dan eerst het plastic en dan de platen.
Houten vloeren, parket en laminaat

Ondervloeren voor laminaat hout en parket

Houten vloer, de ondervloer plaatsen

Welk gereedschap heb je nodig voor heeft voor het leggen van een houten vloer?

Een tegelparketvloer leggen

Een visgraatvloer leggen

Onderhoud van parket

Schuren en repareren van een houten vloer