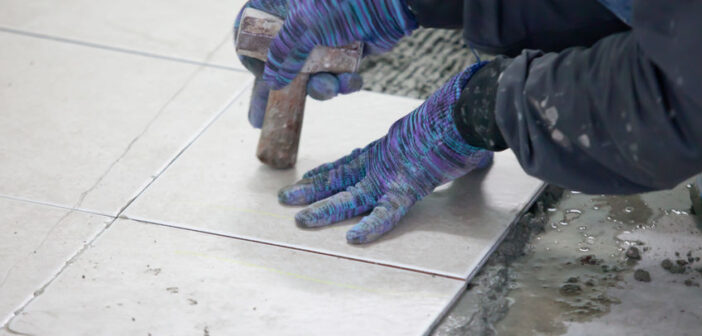 Ondervloer voor natuurstenen en tegelvloeren op een houten ondergrond

Een rubber cement vloer is speciaal ontworpen als ondervloer en tevens lijm voor natuurstenen en tegelvloeren op een houten ondergrond. De toepassing van een rubbercementvloer systeem is ideaal als je bijvoorbeeld een mooie tegel of natuursteen vloer over een houten vloer wil leggen en de opbouwhoogte met behulp van zwaluwstaart platen te hoog wordt.
Vooral in monumentale panden een uitkomst. Het rubbercement systeem bestaat uit cement met fijne snippers rubber. Dit wordt aangemaakt met water en latex (vloeibare rubber). Hierdoor ontstaat na uitharding een soepele onderlaag die de werking van de houten vloer kan opvangen en zo voorkomt dat de tegels en natuursteen scheuren. Er zijn verschillende systemen in de handel.
Belangrijk is bij het aanmaken van de mortel de gebruiksaanwijzing goed op te volgen. Met deze methode kunnen er zelfs grote platen marmer op houten vloeren worden gezet.
Voorbereiding

De houten vloer moet gecontroleerd worden op losse planken. Alle losse planken vast zetten. Loszittende delen verwijderen. Uitstekende spijkers en schroeven in het hout slaan of verwijderen.
Stap voor stap tegelen op rubber cement vloer

Materiaal en gereedschap voor het leggen op rubbercement ondergrond

De toepassing van een rubber cement vloer