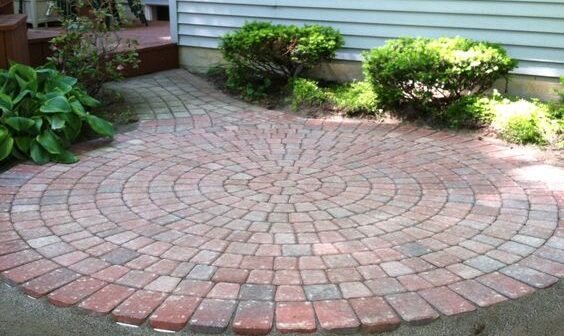 Bij het bestraten van het terras moeten de metseldraden met het juiste afschot lopen. Onder afschot wordt verstaan het aflopen van de bestrating waardoor het water goed weg kan lopen. Elke meter minimaal 1,5 cm afschot aanhouden.
Een rond terras maken
In principe gelden dezelfde regels als bij het bestraten van een pad. Hier volgen enkele belangrijke tips en verschillen:
Stap 1 Een rond terras maak je door een paaltje in het midden te slaan.

Sla een touwtje met een lus aan het uiteinde om deze paal. Knoop het touw dus niet vast aan de paal.

Vervolgens draai je met het touw rondom het paaltje en je hebt een perfect rond terras.

(Als je het touw vast knoopt aan het paaltje dan wordt het steeds korter bij het ronddraaien, bij een dun paaltje niet zo erg maar bij een dikke paal wel.)

Vervolgens maak je het zandbed weer ongeveer 10 a 20 cm breder.

Ook hier is de maatvoering weer van het grootste belang!
Begin met een paaltje te zetten bij de zogenaamde vaste maat. In het geval van het terras is dit bijvoorbeeld daar waar het terras aansluit op het pad, of de vijver. Dit kan eventueel ook weer met een steen zoals boven beschreven.
Stap 2 Het zandbed afreien

Vervolgens ga je met een vlakke rei (dit kan een rechte houten lat zijn) het zandbed afreien op de juiste hoogte. Ontstaan er gaten voeg dan daar zand toe. Rei net zo lang af tot er een glad zandbed is ontstaan. Bij een brede rei is het makkelijk om dit met twee personen te doen.
Een goed egaal zandbed is het halve werk!
Regelmatige nieuwe bestrating in het zandbed leggen en zo weinig mogelijk door het zandbed lopen of kruipen. Gebruik een plaat om op te zitten als je echt in het zandbed moet plaatsnemen.
Bij onregelmatige bestratingen moet je de klinkers of kinderkopjes een voor een intikken. Meer werk en lastig om niet in het zandbed te zitten.
Wat voor materiaal heb je nodig om te bestraten 

Voordat je kunt beginnen met bestraten

Gereedschap voor het bestraten

Bestratingen – Uitzetten van de maten

Een goed zandbed maken

Bestraten van een pad

Bestraten van terras

Afwerken van het straatwerk